Bu yazı ODÜLÜ Dergisinin 54. sayısında yayınlanmıştır.
Gökyüzünde Öğrenme?
Kitlesel Açık Çevrimiçi Dersler (KAÇD) MOOC – Massive Open Online Courses
 Prof. Dr. Kürşat Çağıltay
ODTÜ, Öğretim Teknolojileri Destek Ofisi Koordinatörü
Bilgisayar ve Öğretim Teknolojileri Eğitimi Bölümü Öğretim Üyesi
 "Bir bilgisayar başındayım. Masamda oturuyorum. Yalnızım. Öğreniyorum. Hem de çok keyif alarak. Aynı dersi benimle beraber alan on binlerce öğrenci daha var, bunların altı tanesi de grup arkadaşım. Yalnız da değilim hani." Bu tanımlama bugün İnternet'ten erişilebilen Kitlesel Açık Çevrimiçi Dersler (KAÇD) (MOOC – Massive Open Online Courses) hakkında konuşulurken hayal edilen senaryolardan birisi. İnternet teknolojileri ile eğitimde değişimin gerçekleştiği yeni bir dünyaya geçişin olduğu iddia ediliyor. MOOC acaba uzun dönemde eğitimi dönüştürecek ve hatta okulun varlığını da sorgulatan bir dünya olacak mı?
 1990'lı yılların sonunda ortaya çıkan ve Massachusetts Institute of Technology-MIT tarafından öncülüğü yapılan ders malzemelerinin, videolarının, eğitsel kaynakların öğrenmeye hevesli ve bu kaynaklara ihtiyaç duyan herkes ile İnternet üzerinden paylaşıldığı Açık Ders Kaynakları girişimi dünyadaki pek çok akademik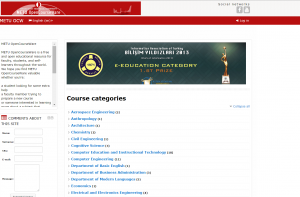 kurum tarafından sahiplenilmiştir. ODTÜ olarak bizim de aktif olarak, ocw.metu.edu.tr adresi üzerinde sunulan 118 adet açık ders kaynaklarıyla içinde olduğumuz bu girişim, herhangi bir uzaktan eğitim uygulamasından farklı olarak kaynaklardan faydalanan kişilere akademik bir derece ya da sertifika sağlamamaktadır. Telif hakkı sorunu olmayan eğitim araç gereçlerine erişim sağlayarak eğitimde fırsat eşitliği gözetilmektedir. Dersini zenginleştirmek isteyen veya kendi üniversitesinde benzer ders açmayı planlayan öğretim üyeleri, ilgilendiği alandaki gelişmeleri takip etmek isteyen ya da bilgilerini tazeleme ihtiyacı duyan mezunlar, bir üniversitede öğrenim gören öğrenciler ve herhangi bir konuda bilgi edinmek isteyen insanlar bu sistemin doğal kullanıcılarıdır.
Ancak, ders malzemelerine ulaşmak ve kullanmanın ötesinde bir öğretim etkinliğinin olmaması Açık Ders Kaynaklarına yönelik önemli eleştirilerden birisiydi. Geçtiğimiz birkaç yıl içinde ortaya çıkan MOOC girişimi ise çok sayıda (hatta binlerce) kişinin çevrimiçi ve herkese açık dersleri yüz yüze süreçteki gibi takip edebilmesi üzerine kurulmuştur. Bu sisteme İnternet üzerinden katılan tüm katılımcılara, üniversitenin normal öğrencilerine verildiği gibi ders verilmesi için çalışılmaktadır. Dersler sırasında öğrencilerin tümü, sorulacak soruları cevaplamak, ödev yapmak, ara sınav ve yılsonu sınavlarına girmek ve sonuçlarını öğrenme hakkına sahip olabilmektedir. Sonuçta öğrenciler takip ettikleri dersin sertifikasını da alabilmektedir.
Özellikle dünyanın önde gelen üniversitelerinden MIT ve Harvard, tüm dünyaya ücretsiz elektronik ders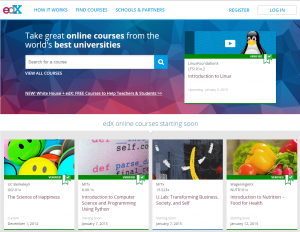 verme projesine milyonlarca dolar kaynak ayırmışlardır. EdX ismi verilen projedeki hedef, MOOC ile 1 milyar kişiye ücretsiz eğitim vermektir. ABD'de Stanford, Princeton, Pennsylvania ve Michigan üniversiteleri de benzer şekilde ücretsiz elektronik dersler vermektedir, ayrıca özel şirketler de MOOC yaklaşımı ile dersler vermek üzere çalışmaktalar. Stanford Üniversitesinde açılan MOOC özellikli bir bilgisayar dersine 100 bin öğrenci kayıt olmuştu ve dersin hocası "Normalde benim yılda 400 öğrencim oluyor. Bu sayıya ancak 250 yılda ulaşırdım" şeklinde açıklama yapmıştı.
Özellikle gelişmiş ülkelerin yüksek öğretim kurumları tarafından yüksek ilgi gösterilen MOOC'lar ile kitlesel eğitimin gerçekleşebileceği ve kaliteli derslere dünyanın her yerinden herkesin ulaşılabileceği iddia edilmektedir. Yazının başında verilen senaryodaki gibi keyifle takip edilen dersler ve etkili öğrenmenin gerçekleştirilmesi beklentilerin en önde gelenidir. Hatta bu yolla klasik eğitim kurumlarına ihtiyacın azalabileceği, isteyen kişinin istediği eğitimi alabileceği bile iddia edilmektedir. Ancak, eğitim alanının tarihçesine bakıldığında sistemi kökten değiştiren yenilik beklentilerinin hep olduğu ama büyük çaplı değişimlerin gerçekleşmediği de görülmektedir.
MOOC ile ilgili olarak çok yüksek seviyede iyimser beklenti mevcuttur. Ama bu konuda büyük adımlar atmadan önce dikkatli olunması da gereklidir. MOOC sistemine getirilen en temel eleştiriler şunlardır:
MOOC yapısındaki derslere çok yüksek ilgi olmakla beraber eğitsel etkileri hakkında elimizde henüz yeterli bir veri bulunmamaktadır. Yani, bir MOOC dersi acaba yüz yüze bir dersten daha etkili midir? Bu dersi alan kişiler konuyu gerçekten öğrenmişler midir? Dersi çalıştıkları alana uygulayabilecekler midir? Bu soruların cevapları ne yazık ki mevcut değildir.
Diğer bir konu ise MOOC sayesinde herkesin istediği dersi alabileceği ve böylece eğitimde demokratikleşmenin olup olamayacağı yönündedir. 29 Ekim 2014 tarihli New York Times'da çıkan "Demystifying the MOOC" başlıklı yazıda bu dersleri takip edenlerin zaten eğitimli kişiler oldukları ve eğitimlerini daha üst seviyeye çekmek için dersleri aldıkları belirtilmektedir. Bunun sonucunda iyi eğitimlilerin bundan bir fayda sağlayacağı ve diğer kesimlerin dezavantajlı durumuna bir katkısı olmayacağı iddia edilmektedir.
Diğer bir potansiyel tehlike de batı ülkelerinde geliştirilen MOOC'ların yaygın kullanımı nedeni ile yeni bir sömürgeciliğin ortaya çıkması ihtimalidir. Endüstri devrimi esnasında nasıl yerel dokumacılık sektörü batı ülkelerinin fabrikasyon dokuma ürünleri nedeni ile yok olduysa aynı şekilde MOOC'ların gelişmekte olan ülkelerin akademik gelişimine de olumsuz etki yapma riski bulunmaktadır.
Son olarak, eğitim ve öğretim kavramlarının aynı şeyler olmadığı konusu tartışılmaktadır. MOOC ile ders almanın öğretim ile sınırlı kaldığı, ama eğitimin ders almanın ötesinde bir kültürlenme süreci olduğu dile getirilmektedir.
Sonuç olarak, Kitlesel Açık Çevrimiçi Derslerin günümüz eğitim sistemi için bir potansiyel faydaları bulunmaktadır. Ancak, bu faydaların kalıcı etkileri ve uzun soluklu olup olamayacağı konusunda dikkatli olmakta fayda vardır. Eğitim sistemini kökten değiştireceğini iddia eden pek çok girişim ne yazık ki bir süre sonra tarih olmuştur. MOOC konusunda da benzer bir son ile karşılaşmamak için eğitim alanının kendi iç dinamiklerini dikkate alıp adımlar atılmasında yarar bulunmaktadır.