Kasım 1996 tarihinde Türkiye Internet projesi ile İş Bankası, Bilişim Teknolojileri Büyük Ödülü için Attila Özgit ile beraber başvuruda bulunmuştuk. Aşağıda o raporun üçüncü bölümü sunulmaktadır. Raporun devamı önümüzdeki günlerde eklenecektir. Özgür İnternet'den her gün bir adım daha uzaklaştığımız günümüzde İnternet'in Türkiye'de nereden nereye geldiği konusunda o tarihi günleri birinci elden yaşamış kişilerin yazdığı bu rapor tarihe bir not düşecektir.
Kürşat Çağıltay, 1 Şubat 2015
 Türkiyede Internet Öncesi Temel İletişim Altyapısı ve Bilgisayar Ağları
Bilgi temelli toplum (Information Society) olma yolunda belirleyici olan en önemli öğe o toplumun günümüzdeki iletişim (telecommunications) altyapısıdır. İletişim, ticari servislerin, mal piyasasının, medyanın, ulaşım ve turizmin, eğitimin, devlet işleyişinin kısacası günümüz toplumunda aklımıza gelen her alanın ayrılmaz bir parçasıdır. Ekonomiler bilgi yoğun olmaya başladıkça istihdamın %70'inin iletişim bağımlı olacağı hesaplanmaktadır [1]. Modern iletişim sistemlerine ulaşmakta geri kalan ülke ve firmaların genel ekonomi içinde yer almaları mümkün görülmemektedir.
Günümüz toplumunu son derece derinden etkiliyor olmasına rağmen iletişimin stratejik bir yatırım alanı olması aslında oldukça yenidir. Ancak, 1980'li yıllardan sonra bilgi teknolojileri alanındaki hızlı gelişme ve talep ile iletişim, ekonomilerin en yüksek başarımlı kesimlerinden birisi haline gelmiştir. 80'li yıllardan önce hemen hemen tüm ülkelerde (bugün de halen pek çok ülkede) iletişim servisleri devlet tekeli altında ve diğer klasik servisler (telgraf, mektup vs.) ile beraber sunulmaktaydı. Fakat, bilişim/enformatik alanındaki hızlı gelişmeler iletişim hizmetlerine olan talebin yapısını da değiştirmiştir. Gelişmiş ekonomilerde bugün sıradan telefon servisleri (özellikle yerel boyutta) düşük gelişme gösterirken bilgi iletişimi ve bilgisayara bağlı katma değerli servisler konusunda oldukça yüksek bir gelişme eğrisi gözlenmektedir [2].
Türkiye de bu hızlı değişimden etkilenmiş ve hatta sayısal iletişim altyapısını diğer ülkelere göre geç kurması yüzünden oldukça yeni teknolojiye sahip olma avantajını sağlamıştır. 1985 lerden beri ülke iletişim konusunda büyük yatırımlar yapmış (Yıllık gayri safi milli hasılanın yaklaşık %1'i ), temel olarak telefon iletişimi ve düşük hızlı sayısal veri iletişimi için kurulan ağ ülkenin hemen hemen tümünü kapsamış ve digital altyapı oranında pek çok OECD ülkesinin önüne geçilmiştir.
Türkiye'de sayısal iletişime geçilmesi kararı askeri yönetimin atadığı Meclisten güvenoyu alan Bülent Ulusu hükümetince alınmıştır. PTT, 1982 yılında sayısallaşmaya geçiş için "1983-1993 Haberleşme Ana Planı" nı hazırlamaya başlamış ve 1983 yılında rapor devletin ilgili birimlerine sunulmuştur. Raporda, yurtiçi haberleşme ihtiyaçlarımız açısından sayısal teknolojinin zorunlu hale geldiği, iletişimin ulusal kalkınmaya doğrudan ya da dolaylı katkıda bulunacağı, ulusal güvenlik ve savunma açısından önemli olduğu vurgulanmıştır. Ayrıca, oluşturulacak iletişim ortamının refahın kitlelere yayılmasında ve büyük şehirlere akının azaltılmasında etkili olacağı da savunulmaktadır.
Sunulan bu rapor sonrasında başlatılan çalışmalar ile iletişim altyapısı yatırımlarında büyük bir patlama yaşanmıştır. 1983 yılındaki 290 milyon ABD doları olan yatırım miktarı 1990 yılında 815 milyon dolara ulaşmıştır. Telefon abonesi sayısı 1983 yılında 1.5 milyon iken bu rakam 1993 yılında 12 milyonu aşmış, telefonu olmayan köy sayısı 26,000 den sıfıra düşmüştür. 1993 yılında telefon yoğunluğu %16'yı aşmıştır (Gelişmekte olan ülkelerde %2.6, dünya ortalaması %12.7, Avrupa Topluluğu %52'dir).
OECD ülkelerindeki PTT'ler ortalama olarak gelirlerinin %25'ini yatırıma ayırırken, Türk PTT'si gelirinin %80'e yakın bölümünü yatırıma harcamıştır [3]. Günümüzün klasik söylemi olan "çağ atlamak" sözü de ilk defa bu dönemde bir sayısal yönlendiricinin açılışında söylenmiştir.
Burada dikkat edilmesi gereken önemli bir nokta da şudur: o dönemde göreli olarak önemli bir atılım yapılıyor olmakla birlikte, gerek yapılan yatırımın uluslararası arenada yaşanan teknolojik gelişme hızına yetişememesi, gerekse de 1980'li yılların sonlarından başlayarak yatırımların durma noktasına gelmesi bugün bizi ulusal iletişim altyapımızı tekrar sorgulanma noktasına getirmiştir. OECD'nin 1995 yılı yayınlarında TT'un çeşitli özellikleri OECD'nin en arka sıralarında yer almaktadır [5].
Türkiye'de genel amaçlı bilgisayar ağlarının kuruluşu ise EARN (European Academic and Research Network)'e yapılan bağlantı ile başlamıştır. Bilindiği gibi EARN, kendi kurucu üyeleri tarafından 1984 yılında başlatılmıştır [6]. Türkiye üniversitelerinin bu ağa bağlanma çalışmaları ise 1986 yılında Ege Üniversitesinden Prof. Dr. Oğuz Manas ve ekibinin çabaları ile başlatılmıştır. Bu amaçla kurulan TÜVAKA (Türkiye Üniversite ve Araştırma Kurumları Ağı) yönetim kurulu EARN'ün Türkiye'deki etkinlikleri, ağ topolojisi gibi konularda çalışmalarını sürdürmüştür. TÜVAKA yönetim kurulu ağa bağlı üniversitelerin Bilgisayar Merkezi temsilcilerinden oluşmaktaydı. Ayrıca, 1987 yılında TÜVAKA'nın teknik düzeyde iletişimini sağlamak, sorunlarını çözmek amacı ile bir teknik alt komisyon oluşturulmuş ve üniversiteler arası kaynak paylaşımı, teknik destek ve yönetim kurulunun aldığı kararları gerçekleştirmek gibi görevleri sürdürmüştür.
EARN ağına ilk önce Aralık 1986 tarihinde Ege üniversitesi bağlanmış, daha sonra da 1987 yılı içinde sırası ile Anadolu, Yıldız, Istanbul Teknik, Boğaziçi, Fırat, Orta Doğu Teknik, Bilkent ve Istanbul üniversitelerinin bağlantıları gerçekleştirilmiştir.
EARN ağına yapılan 9600 bps hızındaki uluslararası bağlantı önce Italya üzerinden gerçekleştirilmiş bu bağlantı daha sonra EARN tarafından yapılan topolojik düzenleme gereği Fransa'ya alınmıştır.
TÜVAKA'nın 1986-1993 yılları arasında gelişerek oluşan ağ topolojisi 1993 yılında Çizim-4'te gösterildiği şekilde yapılanmaktaydı.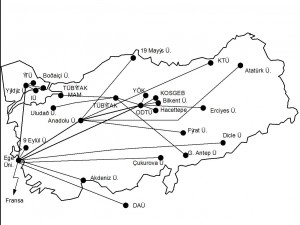 Çizim 4. TÜVAKA Topolojisi (1993)
EARN ağının iletişiminde kullanılan IBM firmasının RSCS (Remote Spooling and Communication Subsystem) yazılımının açık bir yazılım olmaması ve sağladığı imkanların çok kısıtlı olması nedenleri ile bir süre sonra yetersiz kalmaya başlamıştır. Ayrıca, uluslararası hattın kapasitesinin artan kullanım nedeni ile talebe cevap veremez duruma gelmesi de ciddi sorunlar yaratmıştır [10]. Sonuçta bir sonraki bölümde anlatılacağı gibi Türkiye Internet Projesi yaşama geçirilmiş ve o günler için oldukça yüksek sayılacak hızda bir bağlantı ile Türkiye'nin Internet ağına bağlanması sağlanmıştır.
Akademik dünyadaki bu gelişmelerin yanı sıra diğer önemli bilgisayar ağı çalışmaları da bankalar arasında oluşturulmuştur. 1980'li yıllardan itibaren bankalar şubeleri ile olan ilişkilerini daha hızlı ve sağlıklı olarak yapabilmek amacı ile şube otomasyonunu gerçekleştirmişlerdir. Şubeler ile banka merkezleri arasındaki iletişimin sağlanması için oluşturulan yıldız tipi ağlarda modemler ve iletişim hatları kullanılmış ve bu çalışmalar sonucu ekonomiye büyük bir canlılık gelmiştir. Ancak doğal olarak bu çalışmalar Akademik dünyadaki gibi genel kullanıma yönelik değil bankaların ticari işlemleri için yapılmıştır.