Türkiye'de Internet'in Gelişim Süreci – 1993 sonrası
Internet ve Türkiye'de kullanıma sunuluş biçimi 1995 ve 96 yıllarında özellikle bilişim kamuoyu gündeminde ağırlıklı olarak yer almıştır. Konu üzerindeki tartışmaların halen çeşitli boyutlarda yoğun olarak sürdüğü gözlemlenmektedir. Nedir konuyu bu denli önemli kılan? Öncelikle, Internet ve sağladığı olanaklar çağdaş yaşamın parçası haline gelmektedirler; öyleki, bu teknolojiler neredeyse bir telefon gibi insanların günlük yaşamlarının ayrılmaz parçası olmak yolunda büyük bir hızla gelişmektedir. Dünya ülkelerinin gündemine girmiş olan bu önlenemez gelişmeden Türkiye'nin etkilenmemesi olanaklı değildir. Konuyu önemli kılan bir diğer neden ise, konunun yakın geçmişte Türkiye'de gösterdiği gelişme biçimi ve ülkemizde çeşitli kesimlerdeki yaygın ticaret anlayışının özgün yapısıdır.
Internet'in ne denli önemli olduğu, insanın özellikle günlük yaşamını nasıl etkilediği gibi konulara  daha önce değinilmişti. Özellikle 1996 yılının son aylarında günlük basın dahil çeşitli yayın organları Internet teknolojilerini yoğun bir biçimde tanıtmaktadırlar. Burada vurgulanması gereken en önemli konu, Internet tabanlı teknolojilerin öneminin ve ülkemizde yaygınlaştırılması gereğinin tartışılamayacak kadar açık ve net olduğudur.
1996 yılı boyunca bilişim kamuoyunda Internet ve Internet'in Türkiye'de uygulanma biçimi konusunda çeşitli tartışmalar sürmüştür ve sürmektedir. Bu tartışmaları sağlıklı olarak yorumlayabilmek için Internet'in ülkemizde gelişme sürecini çok iyi irdelemenin gerekli olduğunu düşünüyoruz. Bu irdelemenin konuya uzak insanlarca da kolayca yapılabilmesi için öncelikle bugüne değin geçilen aşamalar aşağıda özetlenmektedir.
Daha önceki bölümlerde özetlendiği gibi, Internet Türkiye'de, ODTÜ ve TÜBITAK tarafından 1992 yılında başlatılan bir proje çalışması kapsamında 1993 yılı Nisan ayında kurulmuştur. Uluslararası Internet bağlantısı ODTÜ ile NSF (Washington, ABD) arasında kurulan 64 Kbps hızında bir hat ile sağlanmıştır. Ilk aylarda akademik amaçlı olarak yalnız üniversitelerin birikmiş ağ sorunlarını çözmek için kullanılan Internet olanakları zaman içinde üniversitelerin yanı sıra diğer sektörlere de yaygınlaştırılmıştır. Bu noktada, ODTÜ ve TÜBITAK tarafından desteklenen ilgili oluşum TR-NET olarak adlandırılmış ve kamuoyunda bu adla tanınmaya başlamıştır. Bu yapıda uluslararası iletişim hattının giderleri TÜBITAK bütçesinden ödenmiş, gerekli techizat ODTÜ ve TÜBITAK'ın özkaynaklarından, teknik işgücü ise ağırlıklı olarak ODTÜ'nin özkaynaklarından sağlanmıştır.
Zaman içinde artan kullanım yoğunluğu ve yetersiz iletişim sığasının neden olduğu verim sorunlarının çözülebilmesi amacıyla, 1995 yılı başında TR-NET (ODTÜ ve TÜBITAK) tarafından iki ardışık girişimde bulunmuştur. Bu girişimlerden birincisi, başlangıçta tümüyle devlet desteği ile sürdürülecek bir yapının sağlıklı bir geçiş süreci aracılığıyla zaman içinde belli oranda özelleştirilmesi için neler yapılabileceği, buna özel sektör katkısının ne olabileceği gibi konuların tartışılması amacıyla özel sektörün potansiyel 'Servis Sağlayıcı' kuruluşları ile Mart 1995'te bir toplantı yapılması idi. Bu toplantıda TR-NET olarak servis sağlayıcı'lardan beklentilerin neler olduğu ve nasıl bir işleyiş düşünüldüğü aday servis sağlayıcı kuruluşlara anlatıldı. Servis sağlayıcılar aracılığı ile Internet'in ülke içinde yaygınlaştırılması fikirleri Bilişim'94 kapsamında yayınlanan bir bildirimizde de özetlenmektedir [10]. Servis sağlayıcı adayları ile yapılan bu toplantıda görüşülen konular daha sonra izleyen günler ve haftalarda elektronik ortamda da ayrıntılı olarak tartışıldı.
Daha sonraları kurulacak olan TURNET'in omurgasına da temel oluşturan yapı Çizim-7'de gösterilmektedir. Burada önerilen yapı başlangıç kurgusunu temsil etmekte olup, aşamalı olarak diğer illlere de yaygınlaştırılması öngörülmüştür.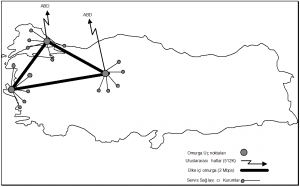 Çizim 7. Önerilen Omurga Modeli
Burada işlenen ana fikir, servis sağlayıcılardan toplanacak yatırım katkıları ile hızlı bir omurga (backbone) kurulması, omurga'nın işletilmesi için hizmetlerin ücretlendirilerek servis sağlayıcılara satılması, diğer bir deyişle omurganın çevresinde servis sağlayıcılar katmanı oluşturulması, ve son kullanıcının servis sağlayıcılar aracılığı ile hizmet almaları idi. Bu yapıya yönelik olarak, servis sağlayıcı adayları tarafından çeşitli görüşler dile getirilmiştir. Kimi bu fikrin hemen yaşama geçirilmesini savunurken, kimi servis sağlayıcılar fikre tümden karşı çıktılar. Karşı çıkanlar kendi aralarında farklı görüşlere sahip guruplar olarak belirdiler. Bazıları fikrin daha fazla olgunlaştırılmasını savunurlarken, bazıları ise omurga kurma işinin doğrudan kendilerince yapılmasını savunuyorlardı. Bu sözü edilen ikinci gurupta yer alan firmalardan bazıları aynı yılın Haziran ayı içinde, bir sonraki paragrafta anlatılan TR-NET'in ikinci girişimi ile eşzamanlı olarak 'TR-NET A.Ş.' adıyla bir şirket kurma girişimi başlatarak amacını çok net bir şekilde ortaya koydu [7].
Servis sağlayıcı adayları ile yapılan görüşmelerin ve tartışmaların uzaması ve bir ortak görüşe varılamaması sonucunda, daha fazla zaman kaybetmemek ve hedeflenen sağlıklı altyapıyı biran önce kurabilmek için, ikinci bir girişim olarak, TR-NET tarafından Türk Telekom (TT) A.Ş'ye bir teklif götürüldü. Teklifin içeriği özet olarak şöyle idi: 'ulusal bir omurga ağ kurmak ve bu ağı uluslararası Internet ağına ilişkilendirmek için başlangıçta gerekli iletişim hatlarını TT'nin, gerekli yazılım, donanım ve insan gücünü TR-NET'in sağlayacağı bir model oluşturmak ve elde edilecek gelir ile yatırım yaparak kendini geliştirecek bir yapıyı sağlamak.' Böylesi bir teklifin TT'a götürülmesinin ardındaki en önemli neden TT'un 406 ve 4107 sayılı yasalar ile temel iletişim olanaklarının sunulması konusunda 'tekel' konumunda olması (TT halen bu sözü edilen yasalar uyarınca tekel olma özelliğini sürdürmektedir) ve bunun sonucunda çok hızlı bir gelişme sağlanabileceği idi. Bu teklif TT tarafından olumlu karşılandı; ve 1995 yılı Nisan ile Haziran ayları arasında iki ay boyunca konuya ilişkin sözleşme çalışmaları sürdürüldü. Imzalanma aşamasına gelen ve taraflarca üzerinde görüş birliği oluşturulan sözleşmenin ana fikrini oluşturan öğeler şunlardı:
IP tabanlı omurga ağını oluşturmak ve uluslararası bağlantıyı sağlamak için gerekli olan ülke içi ve dışı iletişim hatları TT tarafından sağlanacak;
başlangıç için yazılım, donanım ile proje için gereken işgücü TR-NET tarafından sağlanacak;
gelirin %60'ı TR-NET ve TT'nin ortak kararı ile doğrudan Internet altyapısı için yatırıma döndürülecek (diğer bir deyişle, kurulan yapının gelişmesi için gerekli yatırım her zaman yapılabilecek);
gelirin kalan %40'ından giderler çıktıktan sonra kalan kısım taraflarca paylaşılacak.
Neredeyse sonuçlanma aşamasına gelmiş olan bu sözleşme çalışmaları, 1995 yılı Haziran ayı içinde TT tarafından, 'bu konuda bir ihaleye çıkılmasının daha uygun olacağı' gerekçesi ile durduruldu. Bu noktada, TT'un çeşitli guruplar tarafından baskı altında olduğu, bu gurupların bazılarının siyasi baskı bile uyguladıkları duyumları alındı. Sonuç olarak, TT A.Ş. Internet omurgasının ihale yolu ile kurdurulması yolunda adımlar atmaya başladı.
Daha sonra, 1995 Ağustos ayında TT tarafından TURNET olarak adlandırılan Türkiye'nin Internet omurgasının kurulması için hazırlanan ihale şartnamesi yayınlandı ve 1995 Eylül ayı içinde isteklilerin ihale tekliflerinin verilmesi istendi. Ihale, 'gelir paylaşımı ortaklığı' olarak gerçekleştirilmek üzere hazırlanmıştı. TT'un açıklamasına göre, bu yöntem (gelir paylaşımı ortaklığı), TT'un çeşitli nedenlerle yatırım yapamadığı durumlarda, tüm kuruluş yatırımını ve ileride gerekecek tüm genişletme/iyileştirme yatırımlarını bir firmaya ya da konsorsiyuma yaptırarak işletimden elde edilecek gelirin belli oranlarda paylaşılması esasına göre çalışmaktadır.
Bu ihalenin teknik ve idari şartnamelerinin bazı kısımları ile ihalenin yürütülmesi sırasındaki ara adımlar kanımızca çeşitli açılardan yetersiz, eksik ve yanlıştır. Ancak, bu yanlışlar ve eksiklerin tüm katılımcılar için eşit olarak geçerli olması bir yana, bugün bunu tartışmanın pratik bir yararın da olmadığı saptamasının yapılması gerekir. Eksik ve yanlışların kolayca anlaşılabilmesi için, önce ihale şartnamesindeki bazı temel koşulları gözden geçirelim. Böylece, TT ile işi yapacak olan konsorsiyum arasındaki 'gelir paylaşımı ortaklığı' daha iyi anlaşılacaktır.
Şartnameye göre ülke içi omurga için ve uluslararası iletişim için gereken iletişim hatları, yazılım, donanım, ve TT elemanlarının eğitimi teklif veren konsorsiyum tarafından karşılanacak; bu işletimden elde edilecek gelir TT'un payı en az %45 olacak şekilde paylaşılacaktır (bu pay ihale sonunda, kanımızca yanlış bir artırma yöntemi kullanılması sonucunda %70.2 olarak gerçekleşmiştir). Dikkat edilirse burada iki kez ücretlendirme söz konusudur. Konsorsiyum, uluslararası iletişim hatlarını TT'dan ve uluslararası diğer taşıyıcılardan normal tarifeler üzerinden satın almakta, diğer bir deyişle bu alışverişten TT normal kazancını sağlamakta, daha sonra bu kurulan iletişim olanakları üzerinden elde edilen gelirden TT tekrar %70.2 pay almaktadır.
'Erişim Sağlayıcı' ve 'Servis Sağlayıcı' kavramları biribirine karıştırılmış ve tek bir yapı altında sunulmaya çalışılmıştır. TT (TURNET) bir yandan kendisi servis sağlayıcı olmak istemekte, bir yandan da çevresinde yer alacak servis sağlayıcılar tanımlamaktadır. Basit bir benzetme ile, bayileri ile yarışan bir ana dağıtıcı rolü üstlenmektedir. Her ne kadar, TT pratikte bu yarışmanın olmayacağını söylüyor olsa da, bu durum servis sağlayıcıları endişelendirmektedir. En azından, TURNET'in 'Servis Sağlayıcı' özelliğinin yalnız ve yalnız özel servis sağlayıcıların hizmet vermediği noktalarda (kullanım potansiyelinin az olacağı bölgelerde) tanımlanması ve öne çıkartılması gerekirdi.
Ihaleye katılan konsorsiyumlar/firmalar şu şekilde bir oluşum gösterdiler: (1) IBM, (2) IDT-LASEREX, (3) LIKOM-NUROL-MCI, (4) NETAŞ, (5) SATKO-ODTÜ-SPRINT. Ihale zarflarının açılması sırasında, NETAŞ ihaleye itiraz mektubu (diğer bir deyişle, iptal dilekçesi) verdi (gerekçelerini NETAŞ yada TT isterlerse açıklayabilirler). Itirazın TT tarafından kabul edilmemesi üzerine NETAŞ ihaleden çekildi. Daha sonra, ilerleyen haftalarda Türk Telekom kalan firmalarla görüşmelerini sürdürdü. Bu firmalardan IBM dışında kalanlar TT tarafından açık artırma için çağırıldılar, diğer bir deyişle IBM teknik olarak elendi (IBM'in açık artırmaya çağırılmama gerekçesi IBM yada TT tarafından isterlerse açıklanabilir).
%45'den başlatılarak 'açık artırma' modeli ile yapılan pazarlık sonucunda, birinci yıl %70.2 ile başlayıp her yıl 1.5 puan artarak sürecek olan 'TT payı' ½ saat süren bir açık artırma süreci ile saptanmış oldu. Ihaleyi SATKO-ODTÜ-SPRINT konsorsiyumu kazandı. Burada dikkat çekici önemli bir ayrıntı da şudur: Açık artırmada %45 olarak başlatılan 'TT payı', en az 0.1 puan artış adımları kullanılması koşulu ile yarışan üç konsorsiyum tarafından biribiri ardına deklere edilerek saptandı. Yani her konsorsiyumun bir önceki deklarasyonu ile bir sonraki deklarasyonu arasında %0.3 fark bulunuyordu. Kanımızca, bu yöntem kontrol edilmesi pratik olarak oldukça güç bir artırma süreci oluşturmuştur. Bunun sonucu olarak da kamuoyunun neredeyse tümünün yadırgadığı paylaşım oranları ortaya çıkmıştır.
Kurulması öngörülen yapı Çizim-8'de gösterilmektedir. Kurulmuş olan yapıda Ankara'dan çıkan uluslararası hat fiber-optik olarak gerçekleştirilmiştir.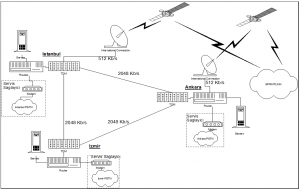 Çizim 8. TURNET Kurgusu
1995 Kasım ayı sonunda SATKO-ODTÜ-SPRINT konsorsiyumu sözleşme yapmak üzere TT tarafından çağırıldı. Sözleşme çalışmaları yaklaşık 3 ay sürdü. Bu sürecin en önemli özelliklerinden biri, TT ile konsorsiyum arasında sözleşme çalışmaları sürerken, çeşitli TT hizmetlerinin Lisans'a bağlanabileceğine ilişkin yönetmeliğin 1995 Aralık ayı sonunda Resmi Gazete'de yayınlanması idi. Internet servislerinin de bu tanıma dahil olup olmadığı net olmamakla birlikte, ayrı tutulması için önemli bir gerekçe olmadığı söylenebilir.
TT'un genel olarak kurumsal bazda konuya bakış açısı, sözleşme masasındaki örgütsel tutumu, hızlı ve birimleri arasında anlayış birliği oluşturarark hareket edebilme yeteneği, 'mevzuat canavarı'nın yapıcı düşünce önünde engel oluşturması gibi özelliklerini bu denli yakından izleyenler olarak bu uzun sürecin çeşitli adımlarının sonuçları ve genel verimi konusunda şaşırmadığımızı söyleyebiliriz.
Ihalenin yapılmasını izleyen dönemde TT yetkilileri çeşitli ortamlarda TURNET'in kısa zamanda kurularak yaşama geçeceğini bildirdiler. Oysa, haftalar ve aylar geçiyor, ancak TURNET kurulmuyor, çalışmaya başlamıyordu.
TURNET kuruluşuna ilişkin sözleşme TT ile konsorsiyum ortakları arasında 1 Mart 1996'da imzalandı. Sözleşmenin imzalanmasına değin geçen 3 ay içinde ve imzalanmasını izleyen günlerde iki temel konu tartışmaların belirleyicisi oldu. Birincisi, kurulacağı ve çalışacağı söylenen TURNET ortada yoktu. Ikincisi, TURNET için belirlenen fiyat tarifesi servis sağlayıcılar tarafından yüksek bulunuyordu. Bu dönemde 64 Kbps hızında bir TURNET bağlantısının aylık 6,000 ABD doları bedel ile sağlanacağı söylenmekteydi.
TURNET'in kurulamaması aslında süreci yakından bilenler için hiçte şaşılacak bir durum değildi. TT sözleşme masasında ihaleyi kazanan konsorsiyumu ağır koşullara imza atması için zorluyordu. %70.2'lik TT payı zaten başlı başına bir sorun yaratıyordu. Buna ek olarak, olası bir Internet lisans dağıtımı ve bu durumda TT'nin konsorsiyumu koruyup koruyamayacağı bir yana, en azından diğerleri ile eşit konumda tutup tutmayacağını sözleşmeye koymaya yanaşmaması sonucu imza süresi uzadığı gibi, bu dönemde konsorsiyumun kuruluşa ilişkin techizat siparişlerini vermesini de geciktirdi.
Nisan 1996'ya gelindiğinde sözleşme imzalanmış, TURNET'in kurulması ve fiyat tarifesinin oluşması bekleniyordu. Bu dönemde ODTÜ, konsorsiyum'dan ayrılacağını gerek ortaklarına gerekse de TT'a bildirdi.; ancak, bu konuda kamuoyunda yeni bir tartışma başlatmamak ve gündemi temel sorunlardan saptırmamak için bir açıklama yapmadı. Bugün, bu konuda birşeyler söylemek gerekirse; ODTÜ'nün ülke çapında kamu yararına ve hızlı bir biçimde Internet kurulması için giriştiği bu işin, beklediği şekilde oluşmaması ve evrensel doğrularla uyumlu bir gelişme göstermemesi nedeni ile ayrılma kararı verdiği söylenebilir.
TURNET tarifesinin son resmi şeklini alması 1996 yazı başlarına rastlar. Saptanan tarifeye göre 64 Kbps hızında bir servis sağlayıcı bağlantısı aylık 4,000 ABD doları bedel ile sunulacaktı. TURNET'in dial-up erişim için uygulayacağı tarife ise ilk 15 saat için 15 ABD doları, daha sonraki her saat için 1 ABD doları olarak saptandı. TURNET tarifesi aşağıdaki tabloda verilmektedir.
 TURNET TARIFESI
 A. Kiralık Devre ile Bağlantı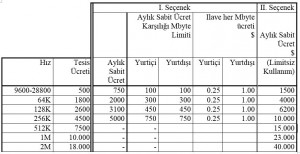 B.  IP/X.25  Bağlantı Ücreti
B.1Tesis Ücreti:                                                                                       100 $
B.2 Aylık Sabit Ücret (300MB Yurt içi, 300MB Yurt dışı Trafik):       200 $
B.3 Haberleşme ücreti (300 MB üzeri  her MB için)
Yurt içi                                                          0.25$
Yurt dışı                                                         1.00$
1996 yılı yaz aylarında servis sağlayıcıları ivedi olarak sözleşme imzalamaya çağıran TT bir diğer tartışmayı başlattı. TT'un imzalanmasını istediği sözleşmenin oldukça tek yanlı ve servis sağlayıcıları zorlayan bir yapıda olduğu görüldü. Ancak, TURNET'in bir an önce işletime açılması, uzun süredir yatırım yapıp gelir elde edemeyen servis sağlayıcılar için oldukça önemli idi. Bu nedenle, 20-30 kadar servis sağlayıcı önerilen sözleşmeyi imzaladı. Bunları izleyen diğer kuruluşlar ve servis sağlayıcılar ile, 1996 Kasım ayında TURNET omurgasına bağlı toplam kuruluş sayısının 60'ın üzerinde olduğu sanılmaktadır.
Geçmişe bakıldığında, her konuda olduğu gibi, Türkiye'de Internet'in de gelişimine ilişkin konularda çelişen çeşitli görüş ve eleştirilerin üretilmesi olanaklıdır. Bunun temel nedeni, süreç içinde yanlışlıkların ardışık olarak biribirini izlemesi ve çoğu kez üretilen görüşlerin referans noktalarının kaybolmuş olması ya da süreç içindeki farklı referansları kullanmasıdır. Ülkemizde Internet'in gelişme sürecindeki en temel yanlışlar ve bunların eleştirileri ve konu ile ilgili genel görüşlerimiz şu şekilde özetlenebilir:
TT somut bir sonuç üretmeden zamanı çok cömertçe kullanmıştır. ODTÜ ve TÜBITAK tarafından TT'a ilk teklifin götürülmesinden TURNET'in kuruluşuna değin yaklaşık 18 ay geçmiştir.
Yatırım yapamadığı gerekçesi ile 'gelir paylaşımı ortaklığı' yöntemi ile Internet işini yapan TT, 1995 yılı sonunda trilyonlar düzeyinde yatırım yapmış ve telefon şebekesini genişletmiştir. Bu konuda TT'nin olası açıklaması 'bu harcamalar yatırım değil şebeke geliştirilmesi içindir' şeklinde olabilir. Ancak, TURNET için yapılan techizat yatırımının sadece 1 milyon dolar olduğu göz önüne alınırsa, böylesi bir açıklamanın ne denli inandırıcı olduğu tartışılabilir.
TT'un 'tekel' konumu ve bunun oluşturduğu sorunlar yasama platformlarında tartışılmalıdır. Konunun doğrudan TT ile tartışılması, doğal tepkisel yaklaşım nedeni ile sürecin uzamasını ve sorunun daha karmaşık hale gelmesine neden olmaktadır.
Ulusal bir bilişim politikası oluşturulmalı ve bunun en önemli altyapı bileşeni olan iletişim/ağ yapısının zamana yayılmış bir ana planı yapılmalıdır.
Internet için üretilecek çözümler ne olursa olsun ulusal bir omurga'nın öneminin gözardı edilmesi ve bunun sonucu olarak oluşturulmaması çok sakıncalıdır. Ülke olarak en önemli hedefimizin gelişkin bir iletişim ağı omurgası oluşturmak olması gerekir.
Düzenleyici erk (regulatory body) olmadan sınırsız serbestleştirme (liberalleştirme) ülkemizin özgün piyasa yapısı nedeni ile sakıncalıdır. Temel hedeflerden biri, 'düzenleyici erk'in oluşturulması olmalıdır.
Bugün geldiğimiz noktada, kavramsal olarak tartışılması gereken en önemli konu TT'nin tekel olarak Internet konusunda takındığı tavır ve bu nedenle gelişme sürecine yaptığı etkileridir.
Bu bölümde özetlenen gelişme süreci içinde, TR-NET tarafından eğitim, seminer, panel, makale ve kitap yayını gibi çeşitli etkinlikler yapılmıştır. Bu etkinlikler aşağıda kronolojik olarak sıralanmıştır.
Mart 1992 – Yapılan elektronik yazışmalar sonucunda NSFNET Türkiyenin bağlantısı için olumlu görüşünü bildirdi.
Mayıs 1992 – TR-NET omurgası kuruluşu için gerekli teçhizat teklifleri alındı.
Mayıs 1992 – TÜBITAK'a TR-NET projesi için resmi öneri yollandı.
Ağustos 1992 – Gerekli teçhizatın alımı gerçekleştirildi.
Ekim 1992 – X.25 ile RIPE (Holanda) üzerinden ilk bağlantı gerçekleştirildi.
Kasım 1992 – 'Internet: Zen and the Art of Internet', 'Accessible Library Catalogs and Databases', 'Internet Resource Guide' isimli üç kitap basıldı ve dağıtıldı.
Nisan 1993 – ODTÜ-NSF, Washington arasına kurulan 64K hızındaki kiralık hat ile Türkiye Internet'e bağlandı.
Mayıs 1993 – 'Internet ve Servisleri' konulu seminer verildi (Yer: ODTÜ).
Eylül 1993 – 'Internet Bağlantısı Için Alternatif Çözümler' isimli doküman yayınlandı.
Eylül 1993 – 'Internet Nedir?' isimli doküman yayınlandı.
Ekim 1993 – Bilişim'93 toplantısında 'Internet: Türkiye de Kuruluşu, Kullanımı ve Yaygınlaştırılması' isimli bildiri sunuldu (Yer: Istanbul).
Şubat 1994 – 'Internet ve Türkiye' isimli seminer verildi (Yer: TÜBITAK).
Şubat 1994 – 'Internet: Bilgiye Ulaşımın Yeni Araç ve Olanakları' adlı kitap yayınlandı (Yazar, Mustafa Akgül).
Nisan 1994 – VIS AŞ. Tarafından Bilgisayar Ağları konusunda yapılan bir sunumda davetli konuşmacı olarak Türkiye de Internet ve gelişimi' tanıtıldı (Yer: Ankara ve Istanbul).
Haziran 1994 – 'Bilgi Toplumu ve Internet' isimli seminer verildi (Yer: TÜBITAK).
Haziran 1994 – 'Herkes Için Internet' adlı kitabın ilk baskısı yayınlandı (Yazar: Kürşat Çağıltay).
Ekim 1994 – Bilişim'94 toplantısında 'Türkiye de Geniş Alan Bilgisayar Ağları için bir Ulusal Politika Önerisi' isimli bildiri sunuldu (Yer: Istanbul).
Ekim 1994 – Bilişim'94 toplantısında 'Türkiye'de Internet' konulu çalışma grubunda sunum yapıldı (Yer: Istanbul).
Nisan 1995 – 'TR-NET Servislerini Kullanım Klavuzu' adlı doküman yayınlandı.
Nisan 1995 – 'Herkes Için Internet' adlı kitap genişletilerek tekrar yayınlandı (Yazar Kürşat Çağıltay).
Mart 1995 – DEIK işbirliği ile 'Iş Dünyasının TR-NET ve Internet Iletişim Ağlarından Yararlanması' konulu seminer verildi  (Yer: Istanbul).
Nisan 1995 – TR-NET ve Internet Servis Sağlayıcılığına Aday kuruluşlar arasında toplantı yapıldı (Yer: TÜBITAK).
Mayıs 1995 – Açık Sistem Kullanıcıları Derneği tarafından düzenlenen 'Türkiye de Veri Iletişiminin Bugünü ve Geleceği' konulu toplantıda davetli panelist olarak TR-NET adına sunum yapıldı (Yer: Istanbul).
Mayıs 1995 – JENC-6 uluslararası konferansına 'Turkey's Networking Infrastructure: Past, Present and the Future' isimli yayınımız yollandı (Yer: Tel-Aviv, Israil).
Haziran 1995 – INET-95 uluslararası konferansında 'Turkish Internet (TR-NET) Project Policies for Organizational Framework and Funding' isimli yayının sunumu yapıldı (Yer: Hawaii, ABD).
Eylül 1995 – TR-NET üzerinden Azerbaycan Bilimler Akademisinin Internet bağlantısı sağlandı.
Ekim 1995 – Uluslararası hat hızı 128 Kbps'e çıkarıldı.
Kasım 1995 – TÜGIAD'de Internet konulu bir seminer verildi (Yer: Istanbul).
Şubat 1996 – Doğu Akdeniz Üniversitesi'nde davetli panelist ve konuşmacı olarak TR-NET adına sunum yapıldı (Yer: KKTC)
Ekim 1996 – Uluslararası hat hızı 512 Kbps'e çıkarıldı.