Kasım 1996 tarihinde Türkiye Internet projesi ile İş Bankası, Bilişim Teknolojileri Büyük Ödülü için Attila Özgit ile beraber başvuruda bulunmuştuk. Aşağıda o raporun ikinci bölümü sunulmaktadır. Raporun devamı önümüzdeki günlerde eklenecektir. Özgür İnternet'den her gün bir adım daha uzaklaştığımız günümüzde İnternet'in Türkiye'de nereden nereye geldiği konusunda o tarihi günleri birinci elden yaşamış kişilerin yazdığı bu rapor tarihe bir not düşecektir.
Kürşat Çağıltay, 27 Ocak 2015
Bilgi, Bilgi Toplumu ve Internet
Günümüzde çok ucuza sahip olunabilen, güçlü bilgisayarların bulunduğu bilgisayar ağları ile evde ve ofiste yüksek hesaplama ve iletişim gücüne ulaşmak doğal bir olay haline gelmiştir. Bu gelişmeler sonucu toplumsal değişiklikler de oluşmakta ve modern uygarlıklar yavaş yavaş bilgi toplumu haline dönüşmektedirler. Bu dönüşüm içinde bugün "yuttaş" ("citizen") olarak anılan kavram da "ağdaş" ("netizen") kavramına dönüşmektedir. Ağdaşlar bilgisayar ağlarının oluşturduğu dünyada hergün daha fazla bilgiyi kullanarak yaşamlarını sürdüren insanlar olarak da tanımlanabilir. Bu değişime paralel olarak  "information superhighway" ya da "süper bilgi otoyolu" kavramı da gündeme gelmiştir.
Değişim doğal olarak ekonomik ilişkileri de etkilenmektedir. Günümüzde pazar ekonomisi (market based economy) olarak adlandırılan sistem bu değişiklikler sonucu bilgi temelli ekonomiye (information based economy)  geçmekte ve sonuçta toplumlar artık mal tüketicisi olmaktan bilgi tüketicisi olmaya doğru ilerlemektedirler.
Yukarıda da belirtildiği gibi, 20. yüzyılı bitirip 21. yüzyıla girmek üzere olduğumuz bu yıllara damgasını vuran en önemli özellik bilgi ve bilgiye dayalı servislerdir. Bilgi bugün çok hızlı üretilmekte ve aynı hızda da tüketilmektedir. Bundan dolayı kişi ve kuruluşlar arasında bilgi aktarımının, son derece hızlı ve etkin bir şekilde yapılması büyük önem kazanmıştır. Bilginin ve bilgi iletiminin öneminden dolayı, içinde bulunduğumuz çağın bu kısmına "bilgi" ya da "iletişim çağı" adları da verilmektedir.
Bilginin sadece kuruluşlar ya da yerel alanlar içinde değil aynı zamanda farklı ülkeler arasında da en verimli yolla paylaşımını, doğru ve güncel bilgiye ulaşımı sağlayan ve süper bilgi otoyolu'na giden yolda en önemli oluşum olarak bilinen "INTERNET", bilginin taşınması için günümüzde en önemli altyapıyı oluşturmuştur. Antartikadan Afrikanın balta girmemiş ormanlarına kadar dünya da Internetin ulaşamadığı bir nokta hemen hemen kalmamıştır. Son zamanlarda uzaya yollanan 'uzay mekikleri' dahi Internet bağlantısına sahip bulunmaktadır. Internet farklı noktalar arasındaki iletişim altyapısını sağlamakta, farklı marka ve işletim sistemine sahip milyonlarca bilgisayarın birbiri ile sorunsuzca iletişim kurmasına imkan vermektedir.
Internet dünyadaki hemen hemen tüm ülkeleri birbirine bağlamıştır. Bugün yüzün üzerinde ülke Internet'e bağlı bulunmaktadır. Çizim-1'de Internet ve diğer ağlara bağlı ülkelerin durumu özetlenmektedir.
Internet, teknik olarak, PTT ya da taşıyıcı şirketlerin sunduğu fiziksel iletişim altyapısı üzerinde çalışan, katmansal bir yapıya sahip bilgisayar ağı ya da bu yapıdaki bilgisayar ağları topluluğu olarak tanımlanabilir. En önemli özelliği, dünya üzerinde son 20 yıl içinde 'de-facto' olarak standartlaşmış ve yaygın kabul görmüş olmasıdır. 1995 yılı verilerine göre dünyada yaklaşık 25 milyon Internet kullanıcısı bulunmakta, 5,000,000 dan fazla bilgisayar (host), yaklaşık 20,000 bilgisayar ağı Internet ile birbirine bağlı bulunmaktadır. Bu sayılar her yıl daha büyük bir eğimle artmaktadır. Çizim-2'de 1989 yılından başlayarak yaşanan büyüme gösterilmektedir.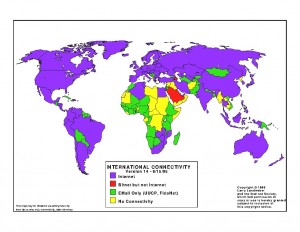 Çizim 1. Dünya Internet Haritası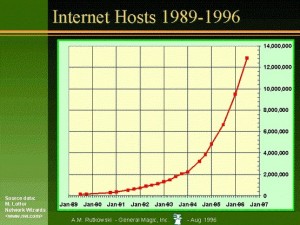 Çizim 2. Internet'e Bağlı Bilgisayar Sayısının Artışı
1996 yılı içinde kullanıcı sayısı 50 milyon'a, bilgisayar sayısı 12,000,000'a, ağ sayısı ise 40,000'e yükselmiştir.
Bu devasa boyutlardaki bilgi ağına Türkiyenin de katılması 1990 yılında başlayan çalışmalar sonucunda 1993 yılında gerçekleşmiştir. ODTÜ ve TÜBITAK tarafından başlatılan ve sürdürülen Internet projesi sonucunda  kısa bir süre içinde çok büyük ve önemli adımlar atılmıştır. Türkiye Internet projesinin en önemli özelliği ilk defa akademik amaçlı olarak başlatılan bir çalışmanın toplumun tüm kesimlerini bu boyutta etkilemesi olmuştur. Kısa süre içinde Internet akademisyenler tarafından kullanılan global bir araştırma ağından, işletimi, yönetimi, ücretlendirilmesi ve güvenliği konularında kullanıcıların duyarlı davrandığı dünya çapında bir ticari servise dönüşmüştür.
Internet projesi sonucunda Türkiye'de toplumun farklı kesimleri arasındaki sınırlar ortadan kalkmaya başlamış, iletişim artmış, ortak çalışma koşulları oluşmuş, bilişim pazarında yeni bir alan oluşmuş ve en önemlisi bilgi toplumu olma yolundaki en gerekli adımlardan biri atılmıştır.
  Günümüzde İletişim Teknolojileri ve Önemi
Ülke düzeyinde fiziksel iletişim altyapısı basit bir benzetme ile insanın dolaşım sistemini oluşturan kalp, ana damarlar ve kılcal damarlar gibidir. Bu  kaba benzetme genel olarak yanıltıcı olmamakla birlikte en temel fark olarak şu söylenebilir. Insan dolaşım sisteminde pompa olarak sadece kalp bulunurken, iletişim altyapısında bu göreve karşılık gelen ileri teknoloji ürünü çok fazla sayıda iletim (transmission) aygıtı yer almaktadır. Burada altı çizilmesi gereken önemli olgulardan biri de fiziksel iletişim altyapısının geliştirilmesi için gerekli iletişim ortamını oluşturan iletken tel, optik lif ve havanın yanı sıra, ileri teknoloji ürünü iletim aygıtlarının da önemli yer tuttuğudur.
Teknik açıdan bakıldığında, iletişim altyapısı biribirinden farklı işlevleri olan bir dizi katmanın oluşturduğu bir yapıdır. Bu katmanların herbirinde uluslararası standart olarak tanımlanmış değişik teknolojiler kullanılmaktadır. Diğer bir deyişle, iletişim atyapısının her katmanında uluslararası standartlarla tanımlanmış birden fazla iletişim teknolojisi barındırılmaktadır. Iletişim katmanlarının en altında yer alan katmanı fiziksel iletime elveren ortamlar (iletken tel, optik lif, hava) ve bu ortamların üzerinde iletilen ikil (binary) formdaki veri topluluğu oluşturmaktadır.
Işlevsel açıdan bakıldığında ise iletişim altyapısı kabaca klasikleşmiş üç temel gurupta incelenebilir: 'ses iletişimi', 'görüntü iletimi' ve 'veri iletişimi.' Ancak, 1985 yılından başlayarak iletişim alanında uluslararası platformlarda oluşan teknolojik gelişmeler sonucunda bu ayrım günümüzde giderek belirisizleşmeye başlamıştır. Diğer bir deyişle, 'veri'nin yalnız normal metin (text)'i içeren klasik tanımı, zaman içinde 'ses' ve 'görüntü' yü de içerecek şekilde değişmiştir.
Bu değişimin oluşmasının en temel nedeni, çok hızlı (saniyede milyon bit ve üzerinde) iletişime elveren teknolojilerin laboratuvar ortamlarını terk ederek üretime geçirilme olgunluğuna erişmesidir. Bilgiyi bir noktadan diğer bir noktaya çok hızlı olarak iletebilme yeteneği, ses ve hareketli görüntünün canlı olarak insanların çalışma masasına sunulması gereğini oluşturmuştur.
Gerek teknolojideki gelişmeler, gerekse de toplumsal yaşamda bu teknolojileri tüketecek alanların hızla yaratılması sonucunda, bugün masaüstü bilgisayar teknolojileri ve iletişim günlük yaşamın önemli ve ayrılmaz parçaları haline gelmişlerdir.
  Dünyada Bilgisayar Teknolojisi ve Ağları'nın Gelişimi
Insanlık tarihinin geride bıraktığımız son 300 yılına, değişik teknolojiler damgalarını vurmuşlardır.
Onsekizinci yüzyıl mekanik sistemlerin ortaya çıkışı ile endüstri devriminin oluşmasını sağlamıştır. Uzmanlara göre bu birinci endüstri devrimi kömür ve demirin kullanımı ile fabrikalarda toptan üretim yolunu açmıştır. Bu dönemi "producer oriented" ya da "üretici bazlı" makinalar yaratmıştır.
Ondokuzuncu yüzyıldaki ikinci endüstri devrimine ise yeni keşifler sayesinde buhar makinaları, plastik, petrol ve elektriğin yaygın kullanımı ile girilmiştir. Bu dönemi de "consumer oriented" ya da "tüketici bazlı" makinalar (örneğin, yolcu araçları, elektrikli ev aletleri vs.) açmıştır.
Yirminci yüzyılın anahtar teknolojisi ise bilgi toplama, işleme ve dağıtımı  olmuştur. Bu dönemi bilgisayarlar ve bilgisayar ağlarının gelişimi açmıştır.
Bilgisayar endüstrisi tüm diğer endüstrilere göre genç olmasına karşın çok kısa bir sürede müthiş bir gelişme sağlamıştır. Bilgisayar teknolojilerinin gelişim tarihçesi dört kuşak olarak ele alınmaktadır. Birinci (1.) kuşak bilgisayarlar büyük alanlar kaplayan ve vakum tüplerin kullanılması ile üretilmiş olanlardı. Ikinci (2.) kuşak bilgisayarlarlara damgasını vuran teknolojik gelişme yarı-iletken 'transistör'ün kullanılmasıdır. Bunun yanı sıra, bu dönemde bilgisayarlar toplu işlem özelliği ile çalıştırılmakta idi. Üçüncü (3.) kuşak bilgisayarlar terminaller ile bağlanılabilen on-line sistemlerdi ve sınırlı telekomünikasyon olanaklarının kullanılması bu dönemde ortaya çıktı. Son olarak 1980'li yıllarda VLSI teknolojisi, kişisel bilgisayarlar, yerel ağlar ve dağıtılmış işlem teknolojileri dördüncü (4.) kuşak bilgisayar teknolojisini oluşturan önemli öğeler olarak ortaya çıktı.
Bilgisayarların ilk ortaya çıkışından sonraki yaklaşık ilk yirmi yıl (1. ve 2. Kuşak bilgisayarlar döneminde) bu sistemler merkezi olarak, özel hazırlanmış odalar içinde çalıştırıldılar. Çok büyük şirketler ya da üniversitelerde en fazla bir ya da iki bilgisayar bu özel koşullarda kullanımda tutuluyordu. O günlerde aynı işi (hatta daha da fazlasını) yapabilecek bilgisayar sistemlerinin günün birinde kişilerin el bilgisayarı boyutuna ineceği bir bilim kurgu öyküsü gibi konuşulmaktaydı.
Tarihsel olarak askeri ve sivil bürokrasi, yeni enformasyon teknolojilerini ilk kullanan kesimler olmuşlardır. Daha sonra, büyük çokuluslu firmalar, orta ölçekli işletmeler ve küçük boyutlu işletmeler bu hizmetleri kullanmaya başlamışlardır. Daha sonra sıra kişilere ve konutlara gelmiştir. 1980'lerde bilgisayarların kişiselleşmesi, bu sürecin başlangıcı olarak alınabilir.
Yukarıda belirtildiği gibi hemen hemen tüm bilimsel gelişmeler gibi bilgisayar ağlarının ortaya çıkışı da temelde askeri projelerin hayata geçirilmesi sonucunda oldu.
1957 yılında SSCB ilk yapay uyduyu uzaya yolladı. Buna tepki olarak Amerikan Federal Hükümeti Savunma Bakanlığı'nın araştırma ve geliştirme kolu olan "Savunma Ileri Düzey Araştırma Projeleri Kurumu" (DARPA- Defence Advanced Research Project Agency) oluşturuldu. Bu birimin temel amacı ABD'yi askeri alanlara uygulanabilecek bilim ve teknoloji alanlarında öncü duruma geçirmekti. 1965 yılında DARPA "zaman paylaşımlı bilgisayar ağı" çalışmasına maddi destek sağladı ve 1967 yılında paket anahtarlamalı ağ planı sunuldu. ARPANET 'in ilk tasarımı Lawrence G. Roberts tarafından yayınlandı.  Temel hedef, bir nükleer savaş esnasında iletişim sisteminde sorunlar da oluşsa ülkenin değişik yerlerinde kurulu bulunan bilgisayar sistemleri arasındaki bağlantının kesilmeden devam etmesiydi. Sonuçta 1969 yılında ABD Savunma Bakanlığınca bilgisayar ağları konusunda araştırma çalışmalarında ARPANET oluşturuldu. Ilk düğüm noktaları: UCLA, Stanford Research Institute, UCSB, Utah Üniversitesinden oluşturulmuştu. Bu noktaların sayısı 1971 yılında 15'e, bağlı bilgisayar sayısı da 23'e ulaşmıştı (UCLA, SRI, UCSB, U of Utah, BBN, MIT, RAND, SDC, Harvard, Lincoln Lab, Stanford, UIU(C), CWRU, CMU, NASA/Ames). 1973 yılında ise ARPANET'e ilk uluslararası bağlantılar University College of London (Ingiltere) ve Royal Radar Establishment (Norveç) ile gerçekleştirildi.
Bilgisayar ağları gelişiminde önemli kilometre taşlarından bir diğeri de UUCP (Unix-to-Unix CoPy) protokolünün ortaya çıkmasıydı. 1976 yılında, UUCP AT&T tarafından geliştirildi ve bir yıl sonra UNIX sistemleri ile beraber dağıtılmaya başladı. Böylece bu basit ama kullanışlı iletişim protokolü de hızla yayılmaya başladı.
Akademik dünya içindeki iletişimin sağlanması için bu sırada çeşitli çalışmalar da devam ediyordu. Bunlardan ilki 1977 yılında bilgisayar bilimleri alanında çalışan 100 araştırmacının elektronik mektup ile haberleşmesi için Wisconsin Üniversitesinde Larry Landweber tarafından yaratılan THEORYNET idi. Izleyen yıllarda akademik kuruluşların temel iletişim altyapısını oluşturacak olan BITNET, "Because It's Time NETwork"  ve CSNET (Computer Science NETwork) 1981 yılında oluşturuldu.
Ticari amaçlı iletişim için bankalar 1977 yılında SWIFT ağını oluşturdular. Bu ağ 1990 yılında 2,900 banka tarafından kullanılmaktaydı. Diğer taraftan havayolu şirketlerinin oluşturduğu SITA iletişim ağı, bugün bilet ayırma ve diğer işletme amaçları için kullanılmaktadır.
AT&T'nin Unix lisansını diğer bilgisayar firmalarına da vermesiyle birlikte, 1980'li yılların ortalarından başlayarak masaüstü işistasyonları, UNIX işletim sistemleri ve TCP/IP yazılımları ile beraber satılmaya başladılar. Böylece küçük boy kuruluşlar ve hatta iş istasyonu sahibi kişiler dahi genel amaçlı ağlara dahil olma şansına sahip oldular.
ABD'de oluşturulan BITNET ağının Avrupa uzantısı olarak EARN (European Academic and Research Network) 1984 yılında kuruldu. Aynı yıllarda Japonya'da JUNET (Japan Unix Network) ve Ingiltere de, JANET (Joint Academic Network) kuruldu.
Internet bağlantılarındaki artışın en önemli adımını oluşturan NSF-NET (National Science Foundation NETwork) ise 1986 yılında 56Kbps hızındaki bir omurga ile ortaya çıktı. Ertesi yıl NSF, ABD içindeki Internet omurgası NSF-NET in işletilmesi için IBM, MCI ve Michigan üniversitesinin oluşturduğu ve Merit Network Inc. adı verilen konsorsiyum ile anlaşma imzaladı. Omurga hızı 1988 yılında T1 (1.544Mbps) seviyesine yükseltildi.
1989 yılına gelindiğinde Internet'e bağlı bilgisayar sayısı 100,000 ve BITNET'e bağlı bilgisayar sayısı ise 1,500 civarındaydı. BITNET kullandığı yazılım teknolojisinin bir gereği olarak sakla-ve-ilet (store-and-forward) tipi bir ağdır. Uzaktan login, file transfer ve etkileşimli kullanım gibi özellikleri bulunmamaktadır. Bu teknolojik sorunlar nedeni ile kuruluşundan yaklaşık 10 yıl sonra büyümesi durmuş, bugün ise terkedilme noktasına gelmiştir.
1990'lı yılların başlaması ile Internet'in ticarileşme süreci de belirginleşmeye başlamıştır. Önce ARPANET ağı tamamen sona erip NSF-NET oluşmuş ve ardından Internet'in ticari kullanımı önündeki engelleri kaldırmasıyla beraber Commercial Internet eXchange (CIX) oluşturulmuştur. 1995 yılında ise NSF-NET tamamen araştırma amaçlı ağ haline dönüşmüş ve ABD'nin omurga trafiği ticari ağ işleticilerinin (Sprint, MCI) üzerinden iletilmeye başlamıştır.
Yukarıda belirtilen tarihsel süreç içinde çok sayıdaki bilgisayar firması tarafından, ürettikleri bilgisayarları birbirlerine bağlayan ağ ürünleri ortaya çıkarılmış ve kullanılmıştır. Ancak bu ürünlerin sadece bir tek markaya bağlı olması (proprietary) nedeni ile tarihsel süreç içinde yaygınlaşamadan ortadan kalkmışlardır. Internet ağ teknolojisi ise açık ve marka bağımsız bir iletişim standardı olması nedeni ile günümüze kadar gelmiş ve dünyanın en yaygın kullanılan iletişim alyapısının oluşmasını sağlamıştır.
Görüldüğü gibi, iletişim teknolojileri 1980'li yılların ikinci yarısından başlayarak başdöndürücü bir gelişme göstermektedir. Iletişim ve bilgisayar teknolojilerinin biribirlerinin neredeyse ayrılmaz parçaları haline geldiği günümüzde çoklu-ortam uygulamaları masaüstünde birleşmiş ve günlük yaşamımızın neredeyse ayrılmaz parçaları olmuşlardır. Kişisel iletişim teknolojileri (hücresel telefon, vb.) ise her geçen gün daha da yaygın olarak kullanılma eğilimi göstermektedir.
Diğer yandan, 1990'lı yılların başlarından itibaren uluslararası platformda Internet'in hızlı yaygınlaşması ile veri iletişiminde bir küreselleşme gözlemlenmektedir. 1980'li yıllarda ağırlıklı olarak akademik ve araştırma ortamlarında kullanılan Internet 1990'lı yıllarda diğer sektörlere de (kamu, ticari, örgütsel, vb.) yaygınlaşmıştır.
Internet'in bugüne kadar olan gelişimine bakılarak geleceğin nasıl olacağı konusunda kestirimler yapılmaktadır. Buna göre 2000 yılında dünyada Internet'e 100,000,000'dan fazla bağlı bilgisayarın bulunacağı tahmin edilmektedir (bkz. Çizim-3).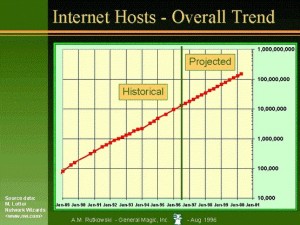 Çizim 3. Internet'in Gelişimine Ilişkin Kestirim
Bu gelişmeler ışığında, ulusal iletişimin önemini kavrayan ileri batı ülkeleri 1993 yılından başlayarak 'National Information Infrastructure', 'Information Superhighway' (Bilgi Otoyolu) vb. kavramları sloganlaştırarak ortaya atmışlar ve bu konuda ulusal eylem planı oluşturma çalışmalarına başlamışlardır. Yukarıda belirtilen teknolojik gelişime paralel olarak enformasyon altyapısı kavramı uluslararası siyasal arenada da gelişim gösterdi. Önceleri Ulusal Enformasyon Altyapısı (NII: National Information Infrastructure) olarak anılan bu kavram, kısa bir süre sonra Küresel Enformasyon Altyapısı'na (GII: Global Information Infrastructure) dönüştü. Aşağıda, bu kavramın uluslararası siyasal arenada nasıl geliştiği özetlenmektedir [4].
Ilk kez 1977 yılında, Iktisadi Işbirliği ve Gelişme Teşkilatı 'nın (OECD: Organization for Economic Co-operation and Development) Enformasyon, Bilgisayar ve Haberleşme Politikaları (ICCP: Information, Computer and Communications Policy) Komitesinde, Enformasyon Altyapısı (II: Information Infrastructure) dile getirildi.
OECD, telekomünikasyon altyapısını ve bunun üzerinde kurulacak enformasyon ağının tartışıldığı üst düzeyde özel bir toplantıyı (High Level Meeting of the Committee ICCP) Aralık 1987 'de Paris 'de düzenledi.
ABD 'de Başkan Clinton işbaşına geldiğinde yardımcısı Al Gore, üretkenliği azalmakta olan ekonominin düzelebilmesi için, tüm yaşamı kökünden etkileyecek bir teknolojik planın uygulamaya konulacağını açıkladı. Bu teknolojik plan, elektriğin ışığa dönüştürülerek (daha açıkçası elektriksel olarak taşınan bilginin optik olarak taşınabilmesi sonucu), çok büyük hızlarda bilginin işlenip, saklanıp, iletilip, anahtarlanabildiği optik bir iletişim ağının varolan telekomünikasyon altyapısı üzerine kurulmasını amaçlamakta idi.
O günlerde yapılan varsayımlar, ki bugün artık kesin gözü ile bakılmakta, yeni iş alanları açarak otomasyon ve özelleştirmenin de etkisi ile giderek artan işsizliğe çözüm getireceği, ekonomiyi etkin ve canlı kılarak toplumlara refah sağlayacağı idi.
Bu altyapı önceleri Enformasyon Anayolu (IH: Information Highway), Enformasyon Süper Anayolu (ISH: Information Super Highway) diye adlandırılırken daha sonra Ulusal Enformasyon Altyapısı (NII: National Information Infrastructure) olarak anılmaya başlandı.
OECD, Küresel Rekabet ve Işbirliğinde Yeni Olanaklar (New Challenges for Global Competition and Co-operation) üzerine Ekim 1992 'de Paris'te özel bir toplantı düzenledi.
Japon Sanayi ve Dışticaret Bakanlığı MITI (Ministry of International Trade and Industry) ve OECD, Enformasyon Teknolojileri Standardlarının Ekonomik Boyutu ve Devlete Düşen Yeni Görevlere (The Economic Dimension of IT Standards: Users and Government in the Standardization Process) ilişkin özel bir toplantıyı Kasım 1992 'de Tokyo'da düzenledi.
1993 başında Detroit'te yapılan G7 (ABD, Kanada, Ingiltere, Fransa, Almanya, Italya ve Japonya) toplantısında, Ulusal Enformasyon Altyapılarının oluşabilmesi için nasıl bir devlet politikasının izlenmesi gerektiğinin incelenmesi OECD 'den istendi.
BMFT (Alman Bilim ve Teknoloji Bakanlığı) ile OECD Bilgi Teknolojilerinin Olanaklarına (Challenges to Information Technology) ilişkin özel bir toplantıyı Haziran 1993 'te Dresden'de düzenledi.
ABD 'nin Ulusal Bilim Vakfı NSF (National Science Foundation) ve OECD, Ulusal Enformasyon Teknoloji Politikalarının Mikro ve Makro Ekonomik Etkileri (Micro- and Macro- Economic Impacts of National Information Technology Policies) konusunda özel bir toplantıyı Kasım 1993 'te Charleston'da düzenledi.
Mart 1994'te Kyoto'da yapılan Dünya Telekomünikasyon Konferansında (World Telecommunications Conference) ulusların bireysel olarak Ulusal Enformasyon Altyapılarını oluşturmasının yeterli olamayacağı, bugün kullandığımız posta, telefon, teleks ve telgraf altyapısında olduğu gibi enformasyon altyapısının da küreselleşmesi gereği vurgulanarak Küresel Enformasyon Altyapısı kavramı ortaya atıldı. Dahası, telekomünikasyonda evrensel hizmet (universal service) diye bilinen:
Kişilerin ödeyebilecekleri bir ücret karşılığında telefon konuşması yapabilme hakkı, Kişilerin ödeyebilecekleri bir ücret karşılığı her tür (ses, resim, hareketli görüntü, müzik, veri vb.) bilgiye etkileşimli (interactive) olarak erişebilme hakkı olarak yeniden tanımlandı.
Eylül 1994 'te yapılan Bakanlar Düzeyindeki G7 toplantısında, Enformasyon Toplumu: Ön Bildiri'si (Information Society: Initial Paper) yayınlandı.
Enformasyon Sistemlerinin Güvenirliği, Kişisel Verilerin Korunması ve Mahremiyete Ilişkin Konular (Issues Related to Security of Information Systems and Protection of Personal Data and Privacy) üzerinde bir Uzmanlar Toplantısını OECD Aralık 1994 'te Paris'te düzenledi.
Ve son olarakta 24 Şubat, 1995 'te, Bürüksel'de, Enformasyon Altyapısı üzerinde Bakanlar Düzeyinde yapılan G7 toplantısında küresel enformasyon altyapısı için uygulanacak devlet politikalarının genel çerçevesi üzerinde görüşmeler yapılmıştır.
Yukarıda sözü edilen kronolojik gelişme göz önüne alındığında, iletişim teknolojilerinin ve bilgisayar ağlarının toplumsal gelişmenin ne denli önemli birer yapıtaşı oldukları anlaşılmaktadır.