We have the following computing resources in our lab: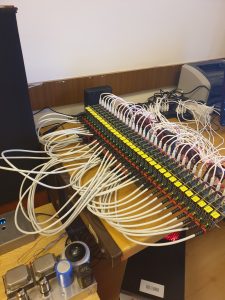 [New]

32 node ARM cluster, each node has Quad core Cortex-A72 (ARM v8) 64-bit SoC processor @ 1.5GHz and 8Gb LPDDR4-3200 SDRAM with Gigabit Ethernet interconnection  (Total: 128 Cores and 256Gb RAM). 

2x 64-Core Servers,  each server with 4  (AMD Abu Dhabi 16-Core 6376 2,3GHz 16M 6400MT) processors and 64GB of memory.  One of the servers has a Xeon Phi coprocessor 3120A 57-Core 1.10GHz 6Gb RAM.
1x 20-Core Server with 2 (Intel(R) Xeon(R) 10-Core E5-2650 v3 2.30GHz)  processors,  128GB of memory and 2x Intel Xeon Phi 5110P Coprocessors with 8GB RAM , 1.053GHz, 60-Core,  each.
Furthermore, our department has the following server:
In addition to those:
Turkish National e-Science Infrastructure (TRUBA)
The National Center for High Performance Computing (UHeM)
Partnership for Advanced Computing in Europe (PRACE)
are some national and international HPC centers that one might want to consider requesting access.